How to crochet for beginner: how to start crocheting? What easy pattern to start crocheting? There are some tips to know, and I'd like to share them with you today!My first advice is to start with an easy and quick tutorial. So that you don't get discouraged with a too complicated project.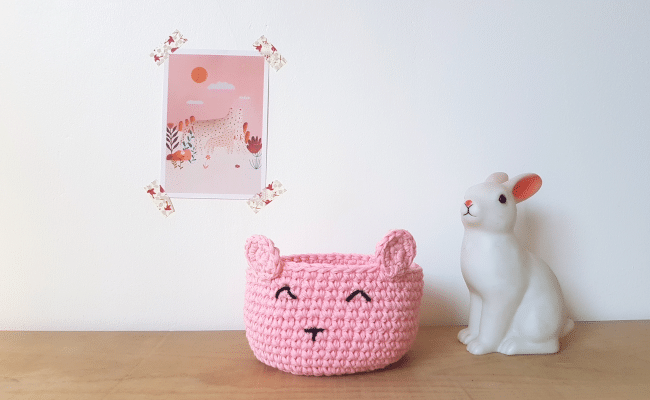 What is the easiest crochet to start with?
There are plenty of easy crochet tutorials for beginners, like a coaster, a pencil pot cover, or a little basket to put your cotton pads in the bathroom… but I'll come back to that later. Start with a project that you like, that makes you want to, that will give you the motivation to get started 🙂
How to crochet for beginner: the basic stitches
In crochet, as in knitting, there are basic stitches, essential stitches that you will need in most projects. Among them are the chain and the single crochet. The single crochet is kind of the crochet equivalent of the garter stitch in knitting 🙂
We'll see these two stitches in detail just after. These are the stitches that I teach first during my crochet initiation workshops.
Beginner crochet tutorial: how to make a chain
The chain is the essential crochet stitch to start a square or rectangular work. We use chains for all projects that do not begin with a magic circle. In tutorials you will read « chain 15 »: it means you start your work with 15 chain stitches.
To make a coester, a scarf, a pouch… you have to start with chain stitches. This is the easiest stitch to learn.
Here is the beginner's tutorial to make a chain: after attaching the yarn to the hook with a slip knot, yarn over (it means pass the yarn from the back to the front on the hook) and then pull the yarn through the loop that is on the hook. That's it!
Here's what a 11 chain looks like: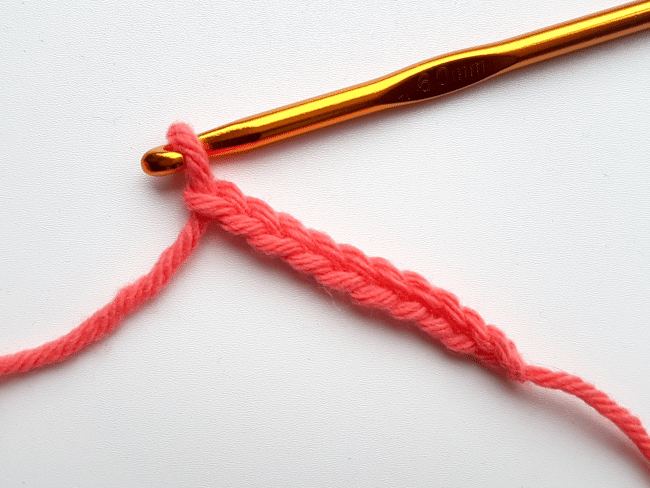 Crochet for beginner: easy tutorial of the single crochet
The single crochet is one of the other essential stitches to learn when starting to crochet. You will use it in almost all crochet projects!
Here is a detailed tutorial of single crochet for beginners:
To make a row of single crochets after crocheting a chain:
Skip a stitch and stitch between the two strands of the 2nd stitch from the hook
Yarn over
Pull the yarn through the chain of the previous row
Yarn over again: we have 2 loops on our hook
Pull the yarn through the 2 loops
When you finish our single crochet, you only have one loop left on our hook.
Here's what a row of 10 single crochets looks like: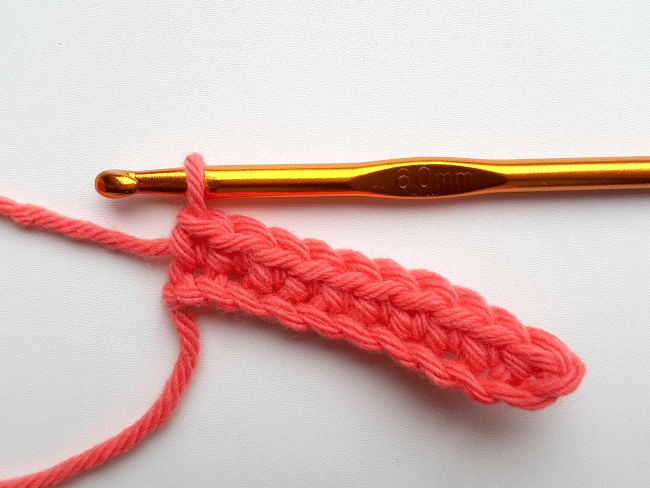 How do you crochet for the first time when you are a beginner?
If you are a beginner and want to crochet, just know it's easy to get ready to crochet! You need a hook, yarn, scissors and a wool needle to weave in the ends. That's it 🙂
Then, to crochet for the first time, the best is to join a crochet workshop. I teach crochet during workshops for beginners in Bordeaux (south-west of France) and this is the best way to learn crochet. Have a look, you may find one in your city. You can also ask your mum, aunt, or a creative friend, or use Youtube tutorials.
Where to find crochet tutorials for beginners?
To find ideas for your future crochet projects, there are a few sites to know. For instance Ravelry which has a great community of knitters and crocheters, but also Etsy.com (where I have my crochet tutorials shop), or even on crochet designer eshop like mine.
All my crochet patterns are very detailed and illustrated with pictures at each step of the project. I guide you step by step and row by row throughout the tutorial. My crochet patterns available on Etsy are in French and English.
Pinterest is also a great source of inspiration for all creative crafts, including crochet! Feel free to subscribe to my Pinterest account, I share my decorating inspirations, DIY and crochet tutorials there
Finally, Instagram is also a goldmine for finding crochet patterns. You'll find hundreds of ideas, for crochet bags, clothes, accessories, blankets… I'm bound to forget some! I also invite you to subscribe to my Instagram account, I share my crochet projects and lots of free crochet tutorials.
Should a beginner crochet a blanket?
Of course, why a beginner should not crochet a blanket?! Obviously a blanket is not the quickest project to crochet. Lenght is the pain point of a blanket, it could be quite long to crochet and you may feel discouraged. But if there is a baby coming soon in your family, you will have all the motivation you need to finish the blanket. And what a lovely baby gift it could be!
When I teach crochet I usually recommend to start with coasters. For me it's the easiest and quickest project to start crochet. The detailed pattern of the coaster is available right here.
What is the fastest thing to crochet?
I love coasters and pot holders because they are so fast to crochet! To me they are the fastest things to crochet, and they are also easy projects for beginners.
To crochet a pot holder, follow the pattern of the coaster (available here) and sew it to close it.
How lovely is it with small plants?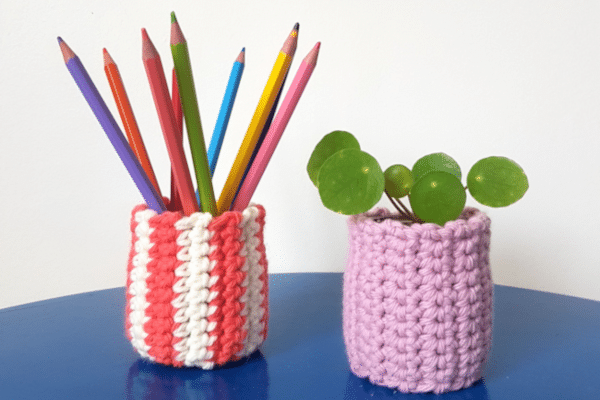 A beginner crochet kit to learn how to crochet an ice cream
This little strawberry ice cream crochet kit contains everything you need to crochet an adorable little ice cream. It is specially designed for beginners who are just learning the basic stitches!
It's a quick little project, which will apply the basic crochet stitches. Tight stitches, cast on stitches, increases and decreases. It also requires knowing how to crochet half-bridles and how to start a project with a magic circle.
I hope this article has made you want to learn to crochet even more!